PROTECTED WILDLIFE makes for perfect nature watching
Eco Tourism
Situated on the Northwest Pacific coast of the Guanacaste province of Costa Rica on the Nicoya Peninsula is a magical place known as Playa Nosara, at once tranquil and invigorating – it all depends on you.
 Protected wildlife makes for perfect nature watching
Unlike most coastal tourist towns, Nosara lacks nearly any development directly on the beach as much of it consists of the Ostional Wildlife Refuge, which is necessary due to the presence of breeding Olive Ridley and Leatherback sea turtle populations. Literally hundreds of thousands of sea turtles flock here annually to lay their eggs.
In addition to the sea turtles, Costa Rica boasts many national parks and protected areas that are home to more than a half million wildlife species that draw its own form of tourism, with people eager to view the flora and fauna that abounds here. In fact, Costa Rica's national parks and protected areas cover nearly a quarter (23.4%) of the country's land area — the largest in the world as a percentage of the country's territory. It also represents 5% of the world's biodiversity, which is astounding for a country of its size and explains why tourists flock here for that reason alone.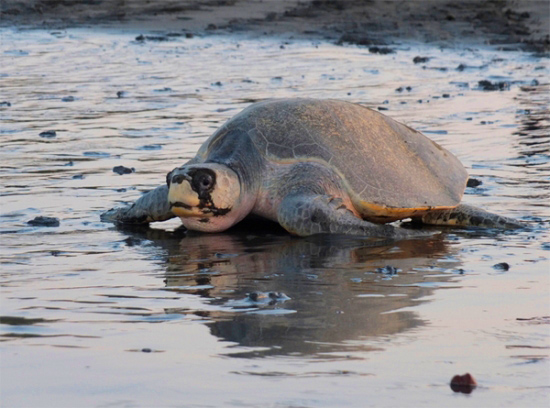 An abundance of eco-tourism activities
What all of this adds up to is one of the main draws in the Guanacaste area:  Eco-Tourism.  Eco-tourists may enjoy activities such as night tours, guided forest walks, sea turtle observation tours, bird watching tours, bicycle tours and snorkeling. While scuba diving and surfing are two of the more well-known activities in the area, the Murcielago or Bat Islands and Catalina Islands are highly regarded by divers.
The Guanacaste Conservation Area consists of several national parks and refuges, offering unique experiences for eco-tourists and nature lovers. Sana Rosa National Park has one of the largest protected dry forests in Central America, characterized by its marked difference during the wet and dry season when it loses most of its foliage. This area of the coast is also covered with red mangroves as well as other mangrove vegetation species. Also part of the Conservation Area are:  Bahía Junquillal Wildlife Refuge, Guanacaste National Park and Rincon De La Vieja National Park, each with its own unique attractions, from waterfalls to hiking trails to hot springs.
Of course, this is just a sampling of all that the area's eco-tourism has to offer. Whatever your preference, Guanacaste will please nature lovers to scientists to adventurers!