NOSARA, GUANACASTE the perfect backdrop for the art of relaxation and serenity
YOGA
Yoga (by definition) is a physical, mental, and spiritual discipline, originating in ancient India. The goal of the person practicing yoga is "the attainment of a state of perfect spiritual insight and tranquility." Once you know the true definition of yoga, it's not hard to believe that Nosara has become world-renowned for its practice and teaching.
The perfect destination for yoga
Nosara – at once a coast village with natural and protected biodiversity and distinct stunning beaches – serves as the perfect backdrop for the art of relaxation and serenity. Imagine being immersed in the beautiful vistasof all that Nosara and the Guanacaste region have to offer, while you are bathed in the lush tropical climate and the sounds of the native wildlife. You are tranquil. You are serene. You are ready for Nosara yoga.
The full-on rainy season here is September and October and is preferred by many due to its less lush, tropical feeling and quiet atmosphere when availability is at its peak. It is an especially popular time for yoga enthusiasts in particular.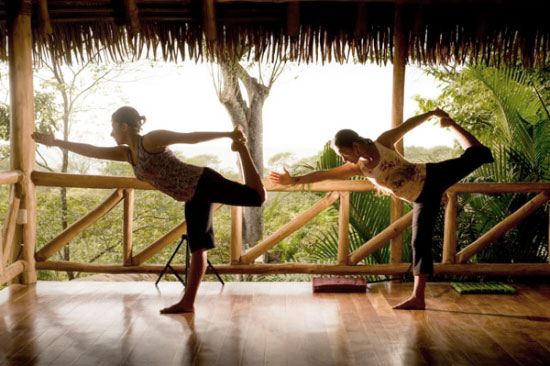 Your choices are many
Your options begin with the world-renowned Nosara Yoga Institute. Since 1994, devotees have flocked here to become more attuned to the practice, whether seeking education on instruction or partaking in public classes, the Institute is widely sought after as a year-round destination.
In addition, you will find several other options in the area offering yoga instruction and programs at all levels. The stunning Blue Spirit Retreat Centre is the vision of Stephan Rechtschaffen, MD, a founder of Omega Institute in New York who had long-time dream of creating a similar facility internationally. He saw Nosara as the perfect location and opened Blue Spirit in December 2010.
Located at the south end of Playa Guiones, Blue Spirit is immersed in pristine nature. Perched on a hill overlooking the ocean and surrounded by beautiful hills and abundant flora and fauna, the beach is only a three minute walk away. Food at Blue Spirit is provided by an onsite restaurant and café serving beautiful meals sourced locally from natural ingredients.
Another option in Nosara is the Costa Rica Yoga Spa, offering teacher training, classes and retreats. With breathtaking views, delicious food and (most of all) people that not only make you feel at home but actually part of the family, Costa Rica Yoga Spa will provide an experience you'll not soon forgot. In addition to offering yoga-based classes, the spa welcomes and hosts groups of all kinds, including music and creativity workshops, detox programs, spirituality seminars, family reunions, nature and photography clubs, art associations, corporate retreats and more.
If you are looking for the perfect destination for serenity and tranquility then look no further. You have found it right here in Nosara.