AT HOME AT YOUR SHARED OWNERSHIP RESORT
Ownership
Own a piece of paradise worry-free and without all the responsibilities
There's a reason why Costa Rica has grown to become the most visited nation in Central America, topping a record 2.2 million foreign visitors in 2011. And more and more people come to the Nosara area in particular, because it's central to everything and close to anything you want to do in the region.
Once you've experienced the Pura Vida of the ticos, you'll never want to leave! And with your shared ownership at The Beach House, you can have exclusive use of your own bungalow – or beach cottage – unsurpassed in its location to the pristine and unspoiled beach of Playa Guiones, along with income potential, in a favorable form of ownership that's perfect for today's lifestyle.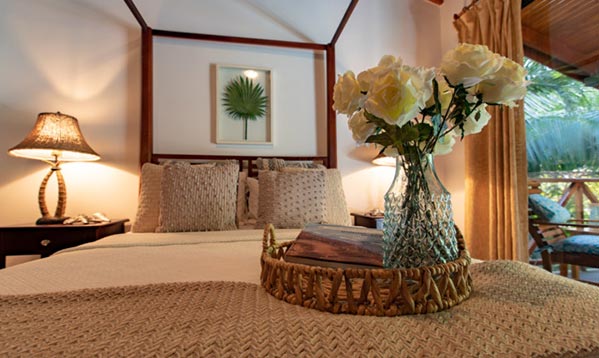 What you can expect
The Beach House is a completely gated and impeccably maintained property, as close to the beach as you can get. We offer our owners and guests all of the amenities of a luxury dwelling tucked away in a tropical paradise. Once you've arrived, you'll truly be free to leave your cares behind and enjoy all that this incredible property has to offer.
Cool off in the pool in between trips to the beach, hiking or enjoying any one of the nearby activities. Once inside, your state-of-the-art kitchen is ready to serve the most discerning chef or you can relax in air-conditioned comfort and soak up the luxury of richly appointed finishes and fabrics imported from all over the world.
Ownership structure, usage and benefits
Shared Ownership – The Beach House is structured as a member owned Cooperative or commonly known as a Co-op. Your share of the Co-op is yours forever and may be willed, transferred, or sold at any time.
Twelve Weeks each year or 84 cumulative nights — Being an owner at The Beach House entitles you of preferred usage each year, divided equally between two separate seasons, the Summer Season (November, December, January, February, March and April) and the Winter Season (May, June, July, August, September and October). This arrangement ensures that you experience all that Nosara has to offer, as ours truly is a year-round resort.
Flexible Reservation Requests – Owners are able to make reservation requests up to a full year prior to the desired vacation period. There are no restrictions on the amount of time or number of villas requested (based on availability) and provided the owner's dues and reserve accounts are current and the owner has the requested amount of vacation time remaining for the year.
Income Potential – Income from rentals will be portioned out and divided among all owners based on usage. For example, an owner occupying only 14 nights in a year will receive a larger percentage of the annual rental income than an owner occupying the property for 28 nights that year.
On-site Management – There will be performed by Beach Management who will act as property manager, they will be responsible for ensuring that every cottage is expertly cleaned and maintained for each and every owner or guest. The property manager will also collect all dues and fees associated with the upkeep up the property. The Beach House will consist of a homeowners association (HOA) which will form an operating board of directors comprised of homeowners that will provide oversight to property manager and will vote on all items of significance pertaining to the property.
Annual Dues – Each owner will pay dues determined by an annual budget based on anticipated operating costs pertaining to the property, furnishings and equipment, along with an accumulation of funds held in reserve for future needs. The budget will be subject to review and approval by the board of directors, who will be elected by the owners.
Visit our FAQ's page, or better yet, give us a call:
Costa Rica: (506) 8802-8866
Colorado: 970-323-3363