THE BEST SPORT FISHING IN THE WORLD AT NOSARA, GUANACASTE, COSTA RICA
Sport Fishing
Billed by some as having "the best sport fishing in the world," Nosara boasts many options for anglers of all experience levels. Nosara offers a great variety of fishing – whether you are doing it for sport, dinner or both!
It gets deep quick off the coast of Nosara, so you'll have more time to reel in some marlin, mahi-mahi, tuna, red snapper and a lot more. Who knows, you might even run into some dolphins while you are out trying to catch dinner?
Expert guides to lead your adventure
A variety of fishing adventures await your visit to Nosara, where there are a number of charters embarking from Playa Garza and Playa Pelada, with choices of excursions ranging from one hour to full-day packages. FishingNosara coordinates several local sport fishing charter boats and operates the largest fishing tackle store in the province. They also operate an online blog for fishing reports and information.
As you will soon find out, your adventure can include spear fishing, snorkeling and shore fishing all in the immediate area. Some of the captains, nearly all of whom perfect English, might even take you to their secret surf and fishing spots!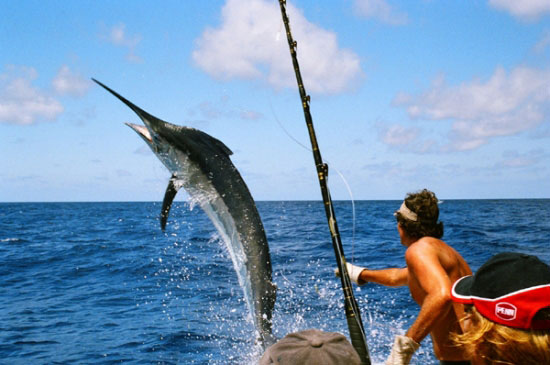 What makes Nosara "Central America's best kept fishing secret"
The Garza reef is a 600 foot shelf only five miles offshore, where you will find bill fish, yellow fin tuna, marlin (blue and black), sailfish, snook, Dorado (mahi-mahi), snapper, Bonita, corvina (sea bass), wahoo, grouper and rooster fish, among others. This unique underwater typography is what makes Nosara so special and is why it's billed as "Central America's best kept fishing secret." In the majority of big game fishing spots it´s not uncommon to have to travel up to forty miles offshore in order to go after the large blue-water species such as marlin and sailfish. However, the Garza reef draws an abundance of species that is uncommon so close to land.
Once you've reeled one in, many of the charters will allow you to bring what you catch to a number of local restaurants – both in Garza and Guiones – that will prepare an amazing meal with your trophy catch. They will make you fresh Sashimi, blacken it, fry it, cook it on the grill…or whip you up a filet of your choice after an exciting day of sea and sun. There's nothing like enjoying your own mouthwatering catch after an exhilarating adventure of a lifetime.
Endless fishing season with nearly limitless choices
The traditional fishing season is April to August, but with the reef and the wide array of great fishing spots, from Tamarindo and Samara to the near north to Garza and the natural harbor of Playa Guiones, there is excellent fishing nearly year-round. With such an abundance of fish and captains that will work hard to locate your catch, it's not uncommon to reel in up to a dozen in a single day! Most charters provide you will all of the gear you will need, along with refreshments and food.
So, what are you waiting for? If you've never been sport fishing, now is your chance to learn. If you are an angler with a lifetime of experience, you've never experienced big game fishing like Nosara has to offer. Come and enjoy.